rule
96pp, A4 size, ¥2100
©06/03/04, Takarajimasha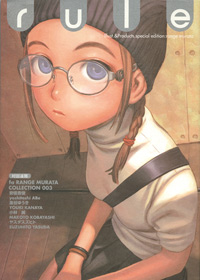 Description: rule is a mook-style release focusing on the works of Range Murata; in particular, his clothing and accessories designs from his fa 003 collection are predominantly featured. However, rule feels more like a release advertising GoFa [Gallery of Fantastic Art] and its contributors. The book includes an interview featuring yoshitoshi ABe, several of his sketches, and a listing of his latest professional work contributions. Four pages in the middle of the book are dedicated to Motoko Kobayashi, a CG artist for GONZO's Last Exile. Also towards the back of the book is a short feature on the Pinky:st line of figures and a brief comic illustrated by Youki Kanaya featuring Range Murata's stylized [rmp] Pinky:st characters. The back of the book contains ads for GoFa, Range Murata's fa goods, re: futurhythm, fa documenta 001+002, and the German convention, AnimagiC.
In terms of the Range Murata content, there are only six pages of illustrations and illustration collages. The newest piece of art featured is from the cover of Character Design Bible Vol. 3. The following 56 pages are predominantly devoted to an array of photographs, sketches, and information of Murata's fa collection 003 line of clothing and accessories. A couple pages have pictures of [rather grizzly] models donning his apparel and some of the item pages have accompanying sketches of characters where the clothing designs originated. Another eight pages detail the creation of an actual motorcycle designed by Murata and produced by Whitehouse. There are also four pages focused on some of Murata's work behind Last Exile and his various art contributions to books, magazines, and games.
All in all, rule is surprisingly broad in coverage, but perhaps somewhat brief in detail on each point of interest. Murata fans expecting lots of artwork will probably be disappointed, but those interested in his fa goods will probably want to take a dip in rule.