Pasta's Estab. 10th Anniversary Bibliography
Two fliers with vinyl bag, ¥500
01/01/2002
Editied by: iori
Print by: HOPE21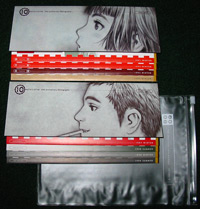 Description: This set of fliers celebrates the ten year anniversary of Range Murata's doujinshi and the Pasta's Estab. name and contain pictures and information for every doujinshi released from 1992 to 2002.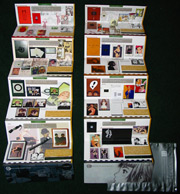 Details: These double-sided fliers are not only incredibly resourceful, but very cleverly designed. The flaps are staggered and labeled by season and year [example: Summer 1997 / Winter 2000.] Each flap opens to reveal information on individual doujinshi releases, with everything from the page count to original price to sale date and place [even Murata's COMIKET booth locations are included.] A brief timeline highlighting Murata's other [published] work runs throughout the pages, and other historical information is presented along the way. A healthy number of samples accompany each listing, including highlights of variations between the different editions of some doujinshi. There are even pictures and information for the stupendously obscure "Private" versions of Murata's stuff.
Overall, this item is undeniably useful for cataloging the first ten years of Murata's doujin career. The ability to read Japanese is obviously a great benefit, but even without it, a great deal of information can still be deciphered.
Note: These fliers were actually created in large part by iori [credited as Editor], owner of the "official" fansite of Range Murata: Fundamental Knowledge of Range Murata ['º"c˜@Ž¢'ÌŠî'b'mŽ¯.] They were not sold by Murata himself. iori's site details every release by Murata, and his involvement with and contributions to magazines, video games, and anime. He pretty much covers essentially anything and everything related to Murata.