Marion and Company Special Remix 1997
52pp, A4 size, ¥1500
01/01/1998, COMIKET 53
By: Range Murata
Description: Marion and Company is a collection of brown toned sketches produced by Murata for Dragon Magazine, a text-based story magazine. This book comes complete with a red envelope.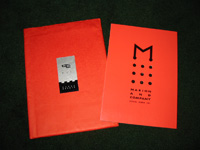 Details: Marion and Company Special Remix 1997 is a 52 page doujinshi featuring three color illustrations and 48 pages of character sketches. The sketches are presented in brown tones as opposed to the traditional black and white and give the book a distinctly warm feeling. The final pages contain rough sketches of the characters featured in the book and typical artist notes.

The book itself has a cover that almost feels like vinyl and it is housed in a decorative envelope in true Murata fashion.