Last Exile Poster Book Collection
3 sheets, A3 size
©2003, GONZO/VictorEntertainment/GHD/MAT
Distributed by: GoFa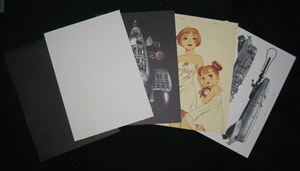 Description: This collection of Last Exile posters from GoFa's Last Exile Making of Exhibition in Tokyo includes one Murata sketch of Lavie and Al from his SPHERES 1 doujinshi.
Details: The Last Exile Poster Book Collection includes three A3 sized [approx. 12 in. x 17 in.] poster images printed on high quality paper sheets. These three pieces of artwork were selected as the "best of" at GoFa's Last Exile Exhibition in Tokyo and they are presented in a large, black envelope with a [tiny] Last Exile logo. One of the posters is an illustration of Lavie and Al by Range Murata, and the other two images are highly detailed Vanship drawings. This set is sold exclusively through GoFa.