DRAW

50pp, A4 size
Printed by T-WAVE, 08/14/2005, COMIKET 68
By: Tsukasa Jun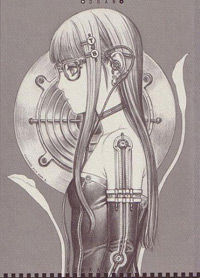 Details:
Financial constraints imposed by low sales and insufficient returns on TB2002 caused Tsukasa to cut back for his 2005 collection. DRAW is a slim, all-black & white volume that contains line art and sketches of many works that have previously been published in color, along with several sketches not seen before. The focus here is clearly on his original characters, with special attention given to his characters from Airforce Delta Strike and the Sengoku Ace series.
While his usual vivid colors are missed by this writer, it's neat seeing so many of his best work in unfinished form, and the reproduction is as crisp as ever. This book makes apparent differences in his technique between from before 2002 or so and recent years: early works have more of a rough, pencil-sketchy quality, while later sketches show exquisite detail and precision.
Tsukasa's usual care toward binding is not absent here. The book is printed on a rough, textured, thick paper that serves the material well.