Calendar 2005
20pp
Printed by T-Wave, 12/30/2004
By: Tsukasa Jun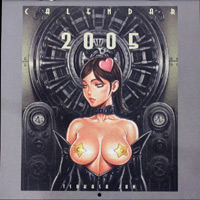 Details: Tsukasa's 2005 calendar is printed on rough, heavy, embossed stock and features a mix of CG-ish and hand-drawn work. Yunis from Sengoku Blade makes a suprise appearance here, no doubt due to her return in the PS2 rerelease of Sengoku Blade. Also present is an illustration from the Gimmix series of flash toys.
©2006. JIJI/CLICK_STICK PRODUCTIONS, LTD.
All copyrights and trademarks are the property of their respective owners.
Best viewed in 800x600+. Contact: longrangebullet@gmail.com