TB Calendar 2004
20pp
Printed by T-Wave, 12/30/2003
By: Tsukasa Jun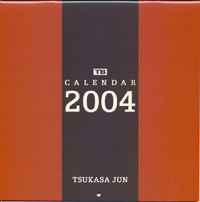 Details: Tsukasa Jun's 2004 calendar, released at the 2003 Winter Comiket, presents six full-color illustrations of Tsukasa's usual excellent quality along with a calendar for all of 2004, two months per illustration. Tsukasa's style looks slightly more CG-ish here than in past work, and the content is slightly less ecchi than his norm.
©2006. JIJI/CLICK_STICK PRODUCTIONS, LTD.
All copyrights and trademarks are the property of their respective owners.
Best viewed in 800x600+. Contact: longrangebullet@gmail.com