Ži'e2004
Tsukasa Bullet 2004
56pp
Printed by T-Wave, 8/13/2004
By: Tsukasa Jun
Details: Tsukasa's 2004 collection doujinshi focuses its color pages on his characters from the Konami game Airforce Delta Strike, usually in compromising situations and states of undress that wouldn't be appropriate for an all-ages PS2 game. His work is as vibrant and strong as ever here, and he continues to push his style further into its own territory. Both hand-drawn and computer-illustrated color works can be found here. The black-and-white section of the book has several short stories featuring Yayoi and Satsuki, as well as many fanart illustrations of his usual favorite Street Fighter, Biohazard, Sakura Taisen, and Aliens characters, and even his take on several Azumanga-Daioh characters.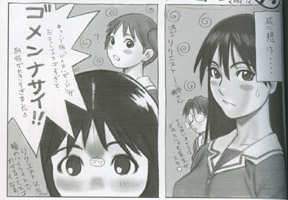 ©2006. JIJI/CLICK_STICK PRODUCTIONS, LTD.
All copyrights and trademarks are the property of their respective owners.
Best viewed in 800x600+. Contact: longrangebullet@gmail.com