robot Vol. 1 English release feature
review + interview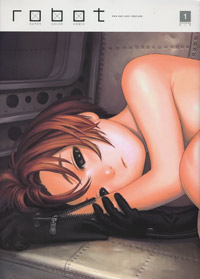 What is robot?

robot is a large undertaking directed by Range Murata that is intended to bring lesser-known manga artists more public recognition through a series of beautiful, full color comic compilation books. robot is an ongoing project that is currently at its fourth release and is published by WANI. Digital Manga Publishing has kindly seen fit to adapt this series of books in English.
robot Vol. 1 English release mini-reviews

review #01
by: jiji
review #02
by: click

Beautiful illustrations; poignant, comic and often disturbing stories; giant pages full of color - robot vol. 1 is manga like none yet seen in the US. Every short and serial in this anthology has something unique to offer, be it in mood, art style, theme, setting, or story. robot comes through looking every bit as vibrant and detailed as the original Japanese release. No expense has been spared in reproducing the original product, and the US release is printed on even thicker paper than the Japanese version. Translations are lively and natural, if a little literal at times. While some of the stories may leave one wanting more, each either comes to a natural conclusion or enough of a cliffhanger to tide one over until the next installment. And I'll definitely be anticipating the next - DMP have done a fantastic job with the book.

Quality. DMP's English release of robot Vol. 1 is a pretty much exact duplicate of its Japanese counterpart. It's got the same beautiful print and paper quality, and absolutely everything is intact. No corners cut here. As for the content itself [now that I can actually understand the stories], they're simplistic but enjoyable. No two are alike, and that's one of the strongest points of this compilation. It's a healthy sampling of different artists and their individual styles, some of which were unknown to me before this release. Let's hope DMP can manage the same level of quality on future releases!
An interview with Digital Manga Publishing
In this interview, long range bullet chats with Isaac Lew of Digital Manga Publishing, the man responsible for bringing robot Vol. 1 over to the US. Isaac discusses the process for getting the rights to publish the book, and future plans for DMP.

long range bullet: How did the opportunity for acquiring the rights to release robot vol. 1 come about?
Isaac Lew: I happened to stumble upon the Japanese version of Robot while checking up on my online store Akadot Retail. It was grabbing a lot of attention and I had known of Murata-sensei from my previous trip to Japan. (At the time he was finishing Last Exile.) My president and I tracked down the publisher of the robot book (Wani Magazine) and arranged the meeting. We basically let them know what kind of butchery in adapted manga comes out here and we promised we'd never let that happen to robot. So a deal was made!

lrb: Did you have a personal draw to robot?  Was Digital Manga quick to agree in producing an English version?

IL: Oh yeah! I love everything about robot and what is stands for! In Japan, manga is the pipeline for becoming a well-established artist. Yet, like Murata, his friends have not the manga-making abilities and are just great artists. I look at Range's series like a group of musicians coming together to do a benefit album. The cause is great and the product will give you two or more tracks that will never been seen anywhere else.

lrb: There is some 'questionable' content in some of the strips featured in robot.  Will the book be shrinkwrapped or have a content warning on the packaging?  Were there any problems involving some of these strips?

IL: Yes, the book is shrink wrapped and has a parental warning that is removable after purchase.

lrb: Was Mr. Murata involved in any aspect with your acquisition of robot and its English production?

IL: Somewhat. Murata-sensei is quite attentive to detail so I couldn't slip anything past him! (Laughs). But, he trusted DMP with our knowledge of the industry, so he left the creative direction up to me. (Of course he and his editors would have to approve.)

lrb: Did you have any direct communication with any of the other authors featured in vol. 1 of robot?

IL: I've chatted with Ugetsu Hakua at AX and have had dinner with Osamu Kabayashi, but nothing too direct. I've also worked with Yoshitoshi Abe, but this was regarding his Lain book more than robot. The Japanese robot staff and fans know me as "Mr. Isaac", so it's really easy to get recognized out there.

lrb: Are there any plans to release subsequent volumes of robot?

IL: Yes, we are currently at work on pushing out volume 2 and 3. Vol. 4 will come out in Japan at the end of October.

lrb: Are there any plans to release English versions of Murata's other professionally published works?

IL: There are plans. The hardest part about his books are that they are so nice, but so expensive in Japan!  Everything Murata does is expensive, but nevertheless, we hope to find a common ground in America between quality and affordablity.

lrb: What is the most likely candidate if DMP were to bring over any of Murata's other individual professional releases?  (Futurhythm, rule, Like a Balance Life, etc.?)
IL: Re: futurhyhm, actually... We are in talks of it right now, but it's quite the expensive book for this particular American market to adapt to. Hopefully if robot's a success, it'll convince the right people to take a chance with the higher grade "pure art books" of Murata. He also had another new artbook due out in Japan shortly and I'm anxious to get my copy of that.

lrb: What about doujinshi?  Is there any chance of a professional release of Murata's independent doujinshi, as was done with yoshitoshi ABe's "essence"?

IL: In all likelihood I'd say no. Murata's doujin tend to be difficult to put out here. But we haven't given up yet.
lrb: Several other companies that publish manga have brought art books to US shelves.  Do you see the US market for these kinds of books expanding in the future?

IL: I've seen Clamp artbooks released domesticly, but nothing really like robot. Nevertheless, I honestly can't see the art book line expanding quickly. I more see this particular field growing at a steady pace. I believe we are pioneering that field.

lrb: (And slightly off-topic, but related:) How are plans to publish "yoshitoshi ABe lain illustrations ab# an omnipresence in wired" proceeding?

IL: Great! As of late we are dissecting the original book and deciding if we can reproduce the US version exactly as the Japanese. It's a bit of a balance between quality and cost for the American cosumer. In addition, we will be adding additional US exclusive page to our book, so I am trying to figure out what the best content could be. Any thoughts?
Thanks so much for your time and offers, Isaac!